The Flat
, owned by
Miranda
, is situated above her
joke shop
. This is where Miranda spends some of her time outside of work.
The Flat is the first location seen every episode except Just Act Normal, and is where Miranda introduced us to weekly events.
TBA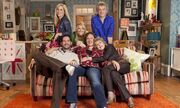 In The Perfect Christmas it revealed that the sofa contains a pull-out bed, which Miranda and Gary share on Christmas Eve.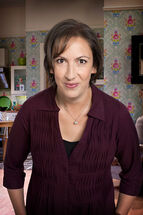 In Series 3 the flat was refurbished; with a new lick of paint and a little furniture move around.
In The Dinner Party it showed that, in fact, Miranda does use the table which is usually tucked away by the Kitchen.
Je Regret Nothing showed the pull out of sofa again, Penny laid there for a whole week whilst Miranda couped her back to health. 
TBA 
Location
Edit
Miranda's flat is located above the joke shop. Due to her shop being only seconds away from the flat, Miranda finds herself making extreme excuses for why she is constantly late for work, such as that "there were leaves on the carpet", much to Stevie's annoyance.
Miranda's flat and shop are also conveniently located next door to a local restaurant, owned by her friend, Clive, and form series three onwards, love interest, Gary. This means that she is constantly visiting the restaurant for breakfast, lunch or large snacks.
Due to the seemingly constant interruptions by family and friends, it could be guessed that either Miranda rarely locks her flat whilst inside or has given keys to these people. Also, as is mentioned in behind the scenes videos, the view of the bedroom from the main flat is a lot smaller as shown in other episodes. This is because the bedroom set is not joined to the flat set.
Sofa - Miranda's sofa is the most iconic item in the flat, being where Miranda spends half her time, also where the majority of conversations happen.
Table - Very little happens here, but it is noted that the table plays a significant role within the episodes. As Hart pointed out in one of her Behind Scene video's is that they had not used the table until The Dinner Party.
Henry Hoover, which has a mophead for hair, that she has name Gary. She was seen playing karaoke with this Hoover in one episode before being rudely interrupted and thus embarrassed.
Teapot - Miranda owns a teapot, upon which she has drawn a face with what seems to be lipstick.
Vegetapals/Fruit Friends - She once had (and probably no longer has) a fruit orchestra and also has a range of self-made fruit friends, the most notable being Gordon the Grapefruit. She only owns one Vegtapal, who was Mr. Butternut.