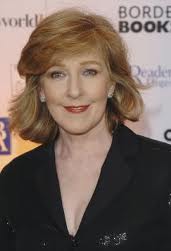 Patricia Hodge (born on 29 September 1946) is an English actress, whose career spans theatre, film and television and voice acting; best known for appering as one of the main characters, Penny in sit-com Miranda in wich she is Mirandas mother.
Early Life
Edit
Patricia Hodge was born the daughter of the Royal Hotel owner/manager Eric and his wife Marion (née Phillips).
Hodge attended Wintringham Girls' Grammar School on Weelsby Avenue in Grimsby and then St. Helen's School, Northwood, Middlesex; before attending Maria Grey College (became West London Institute of Higher Education in 1976 then the Twickenham campus of Brunel University from 1995–2005), Twickenham to train as a teacher. She taught English and drama at Russell County Primary School in Chorleywood, Hertforshire, whilst also applying to London Academy of Music and Dramatic Art,. She started at LAMDA when she was 22, being awarded on graduation the Eveline Evans Award for Best Actress.
Television, Theatre and Film
Edit
Sarah has appeared in numerous roles within Theatre, Film and Television:
Televsion
Edit
1975 The Girls of Slender Means
1975 The Naked Civil Servant
1978-90 Rumpole of the Bailey
1978 Edward and Mrs Simpson
1979 The Professionals, "Involvement"
1979-82 Holding the Fort
1979-80, 1981 The Other 'Arf
1980 Nanny
1981 Winston Churchill: The Wilderness Years
1983 Jemima Shore Investigates
1984 Hay Fever
1986 The Death of the Heart
1986 The Life and Loves of a She-Devil
1986 The Adventures of Sherlock Holmes "The Second Stain"
1986 Robin of Sherwood, "The Pretender"
1986 Hotel du Lac
1988 Heat of the Day
1989 Inspector Morse: "Ghost in the Machine"
1989 The Shell Seekers
1989 Spymaker: The Secret Life of Ian Fleming
1991 Rich Tea and Sympathy
1992 The Cloning of Joanna May
1996 The Legacy of Reginald Perrin
2002 The Falklands Play
2002 Waking the Dead "Special Relationship"
2003 Sweet Medicine
2006 Marple "The_Sittaford_Mystery"
2007 Hustle
2007 Maxwell
2009–Present Miranda
The Disappearance, 1978
Rosie Dixon - Night Nurse, 1978
The Waterloo Bridge Handicap, 1979
The Elephant Man, 1980
Riding High, 1981
Betrayal, 1983
Behind Enemy Lines, 1985
Dust to Dust, 1985
Skin, 1986
92 Grosvenor Street, 1987
Sunset, 1987
Falcon's Maltester, 1987
Thieves in the Night, 1988
Just Ask for Diamond, 1988
Before You Go, 2002
Theatre & Stage
Edit
No-One Was Saved, 1971
Rookery Nook, 1972
Popkiss, 1972
Two Gentlemen of Verona, 1973
Pippin, 1973
Hair, 1974
The Beggar's Opera, 1975
Pal Joey, 1976
Look Back in Anger, 1976
Then and Now, 1979
The Mitford Girls, 1981
As You Like It, 1983
Benefactors, 1984
Lady in the Dark, 1988
Noël and Gertie, 1989–90
Shades, 1992
Separate Tables, 1993
The Prime of Miss Jean Brodie, 1994
A Little Night Music, 1995
Money, 1999–2000
"Summerfolk", 1999–2000
"Noises Off" 2001-02
"His Dark Materials", 2003–04
Dream Me a Winter, 2006 (part of the Old Vic's '24 Hour Plays')
Boeing Boeing, 2007
The Country Wife, 2007–08
"The Clean House", 2008
Calendar Girls, 2008
The Breath of Life, 2011
Dandy Dick, 2012