Charles is the friendly, yet plain, father of Miranda who finds himself talking about the most boring subjects in a similarly boring manner.
Biography
Edit
TBA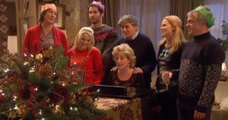 Personality
Edit
Charles is known to be retired, but has a large amount of money, considering that they live in a large posh house and own a black Mercedes-Benz. He enjoys golf, and watching television such as Funniest Animals or You've Been Framed. Charles is the kindest parent, often showing sympathy to Miranda and talking to her, which Miranda doesn't mind despite the boring topics that he often discusses and is shown to be constantly warning people of the dangers of black ice and slush in the episode, The Perfect Christmas. Charles is also very clumsy, which is a trait that Miranda has also inherited. Charles is the husband of Penny and live together in Surrey (a country village near Guildford) - where Miranda and Stevie also live.
Physical appearance
Edit
Charles is an older man with dark, almost slate-coloured, black-grey hair and the same brown-hazel eyes as his daughter. Miranda once told the man behind the counter of a transvestite clothing shop that her mousy brown hair was a trait of her paternal relatives.
Relationships
Edit
Miranda - Father
Penny - Husband
"And if that snow turns into black ice... absolute death trap." (talking to various characters)